Free Super Debloat and Detox Bundle





Free Super Debloat and Detox Bundle
The ultimate 2 step tea detox program
Easy 2 step debloat and detox program
Reduce bloat and boost energy*
Designed for real results*
All natural cleansing formula
Morning Boost

Green tea

Nettle leaves
Guarana fruit
Dandelion root

Yerba Mate
All ingredients
Morning Boost: Green Tea Leaf, Mate Leaf, Nettle Leaf, Dandelion Leaf, Guarana Seed, Nat. Id. Orange Flavoring
Night Cleanse

Ginger root
:

Lemongrass leaves
:

Hawthron berries
:

Peppermint leaves
:
All ingredients
Senna Leaf, Ginger Root, Lemongrass Leaf, Peppermint Leaf, Dandelion Root, Marshmallow Root, Hawthorn Berry, Cardamom Seed, Cinnamon Bark, Burdock Root
Does it contain caffeine?
Morning Boost contains 62mg of caffeine per tea bag, while Night Cleanse is a caffeine free formula.
Can I pair this with other products?
Double your detox when you pair it with Green Cleansing Elixir. With 22 superfoods and probiotics, it supports your gut health.

Cut calories and lose weight when you pair it with Gummies. Formulated with ingredients like Garcinia Cambogia, each serving is only 10 calories and helps to curb cravings.
Is this keto friendly?
Yes it is! It's a great way to keep yourself hydrated too.
It's been 3 years and I still use this! I never feel bloated!!
- Stephanie P. 5/5
Brought me down to within a lb of my goal, helped shed those last 5 lbs!
- Meghan A. 5/5
This tea helped me slim down after my second baby, and also helped me kick my coffee addiction. I love the taste, I FEEL better, and my skin is clearer.
Kristin C 5/5
More reviews
Works great with:
Benefits
Real Customers, Real Results*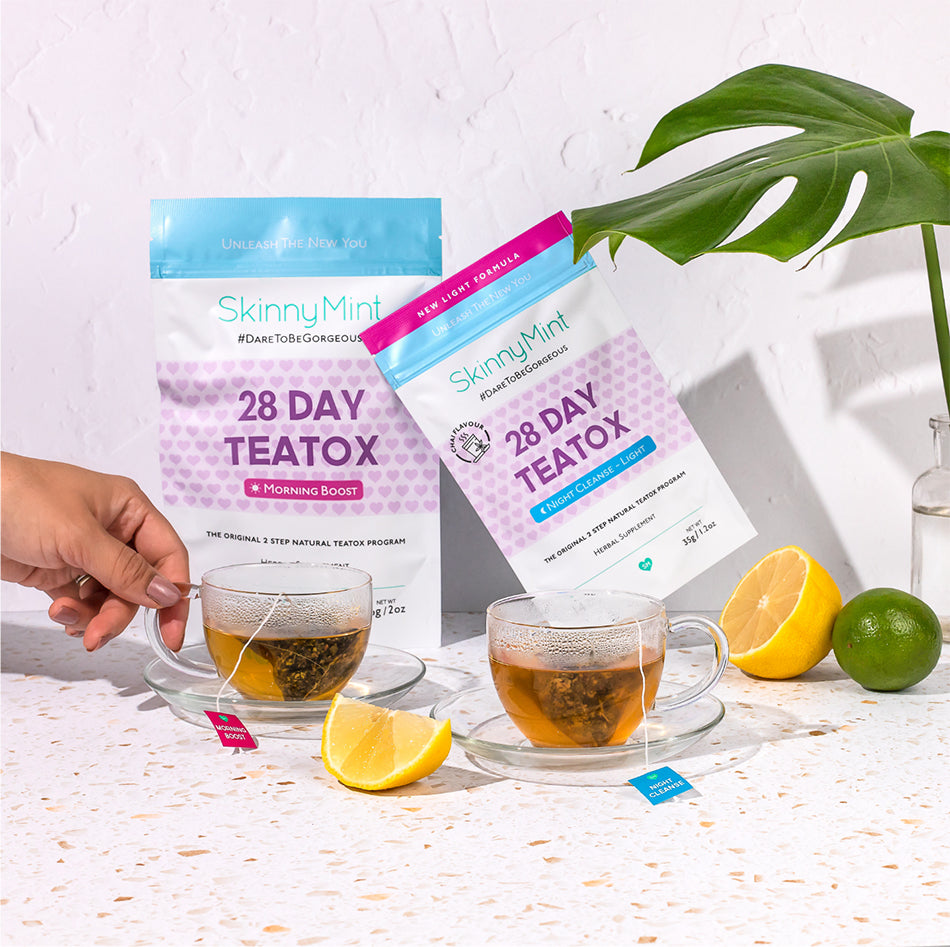 Do's & Don'ts
To maximise your results:
Do take a rest in between 28-day cycles
Don't take it continously
Teatox is a 28-day program and not intended for long term use. Take a 4 to 6-week break in between 28 day programs for your body to rest and readjust after each detox.
Do drink your teas on your periods
Don't Teatox if you're pregnant
The benefits of your tea come into play during periods when you're most likely to have food cravings, cramps or bloating.
Do eat your meals regularly
Don't starve yourself
Teatox is not a diet or meal replacement. To maximise the effects of your detox, we recommend eating meals with lots of fruits and greens, lean meat and whole grains.
Customer Reviews
Ayisha B.
Verified Buyer
02/26/21
Pink clay mask
I love this mask. I usually have pretty clear skin but like many Victorians have been struggling with "mask-ne" over the past 5-6 months and this has really helped clear it when at its worst. The brush makes it easy to apply quickly and evenly and I also find it very satisfying to use because of the way the pink clay dries to semi-opaque (dependinRead more about I love this mask. I usually haveg on thickness) on my face so it looks and feels like it's working. I can get a little dry particularly either side of my nostrils and around my nose piercing, but haven't found this to be drying (when followed with a serum and moisturiser, at least).